Cut To The Chase - Download the YouID V3 Now on Google Playstore!
Or
Want more context? Let's walk you through…
The rapid rise of social media and technology, in general, has made our digital identity as important as ever. The government has even jumped on the bandwagon, introducing details like NIN, and BVN among others to ensure every citizen has a digital identity that can be tracked.
Although this has its upside, it has caused a mass adoption of this unspoken rule that everyone should store their account number, NIN, BVN, and important identity information on their contact list. This seems harmless on the surface, however, it's a decision that could quickly become very costly.
In February 2021, a video posted on Twitter by Jubril Gawat, the Senior Special Assistant (SSA) on New Media to the Governor of Lagos State, Babajide Sanwo-Olu, revealed how fraudsters are taking advantage of people storing identity information on their SIM cards to conduct fraud.
The accused was able to reset the victim's bank account PIN using their account number and BVN which were mostly saved on their contact list. This allowed him to empty their account in a matter of seconds and even proceed to borrow huge loan sums.
Downloaded YouID yet? - Get it Now on Google Playstore!
Although this problem was apparent, people are still forced to save important identity data on their contact list not knowing when or where it may be needed. The fact that there was no alternative. before YouID greatly contributed to the act.
On the other end, most of us know first-hand how frustrating it can be to complete online forms that require our identity details. BVN and NIN are 11 digits, Voters' card is almost hitting 20 let alone National ID and Drivers' License. Besides the numbers themselves, some online forms require that you scan and upload your government-issued IDs.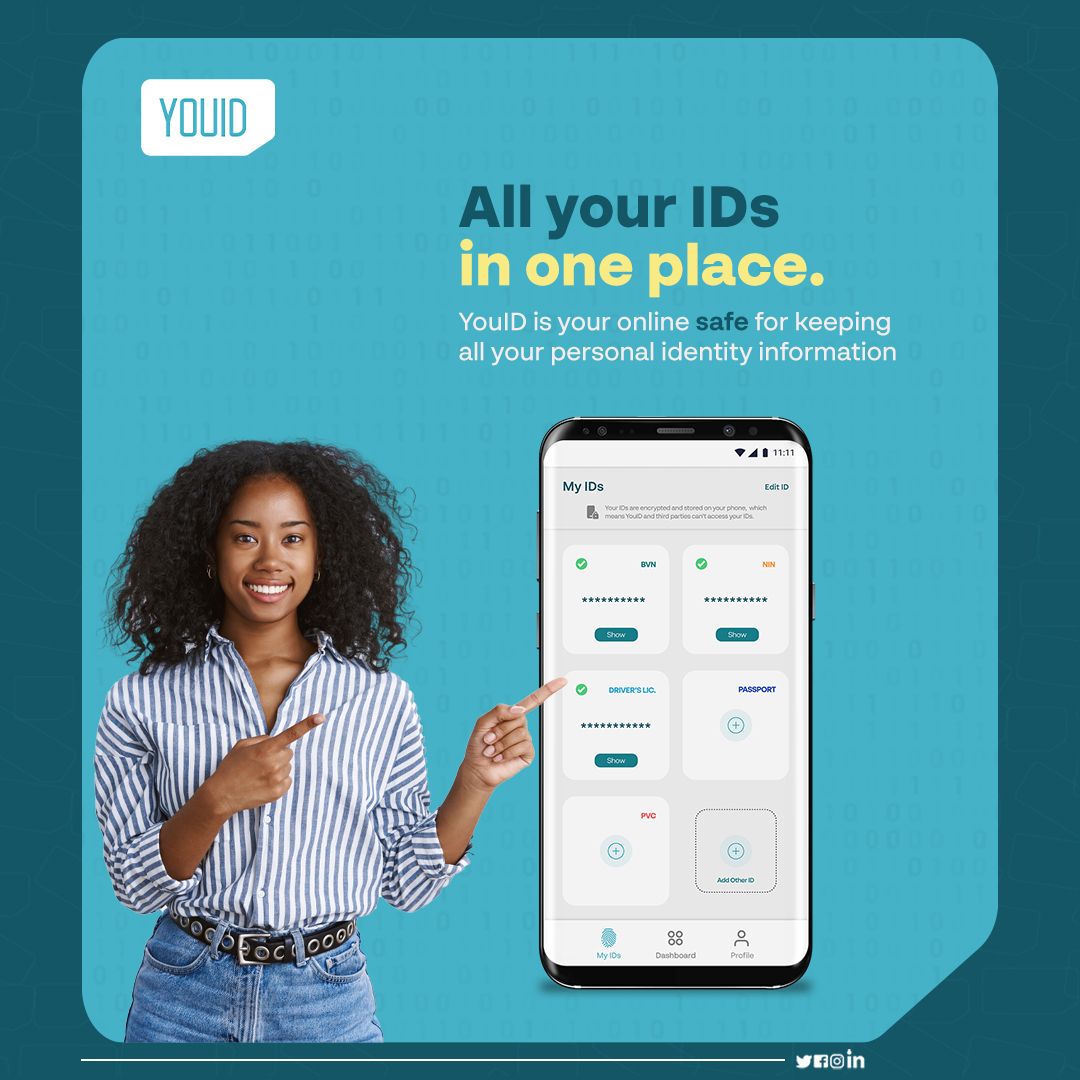 Surely, we have all encountered the pain of having to go scan identity documents every time we need to fill an online application or complete a Know Your Customer (KYC) form.
As part of our strategic plans to curb digital identity fraud all across Africa and solve these apparent problems, Youverify launched YouID in July 2021.
YouID provides a secure and smart platform for you to seamlessly capture, store and manage all your identity information in one place. YouID leads the industry competition by being the first in Sub-saharan Africa to introduce a cutting-edge individual-focused identity management solution.
The application is designed by default to be pro data privacy, that is, it gives full data control to users in addition to being fully compliant with relevant data regulations such as GDPR, NDPR and ISO.
Some of its benefits to users include:
A digital wallet for storing all your personal identity data

Multi-Factor Authenticator to secure all your personal online accounts

Data Breach Notification when one of your passwords is compromised

Address Tracker
Here is a comprehensive video description of how it works:
However, we understand that technology is constantly evolving and as a result, we are too. We also took note of how difficult it was for users to capture their government ID numbers without completing the verification process on the previous YouID version.
A solution to this has been in the works for months now, and we are glad to announce the latest version of YouID that completely eliminates these challenges.
YouID Version 3 or V3, takes ease of use to another level by adding the following features:
Easy sign up on online platforms with only your email and password.

Eye-catching and user-friendly interface for "My IDs". This allows you to easily add your identity information without verifying first.

Capture, store and manage more personal identity information including your NIN, PVC, BVN, Account Number, Password, Voters card, etc. You can access them any day or time without connecting to the internet.
With YouID V3, you can easily add your government-issued ID in a matter of seconds and access them when you need to without an internet connection.
With YouID you can conveniently wave goodbye to the insecurities surrounding you saving your NIN, BVN and other ID numbers saved on your contact list or having to scan your IDs every time you need to complete an online form.
Download the YouID V3 Now on Google Playstore!