Embedded in AML regulations is the Know Your Customer (KYC) process, which exists to ensure such institutions verify the identities of their customers. However, the fact that AML and KYC are often used interchangeably, makes it difficult to understand their differences or if there are any.
What is AML and KYC in banking? Are they the same? A customer might afford to mix them up but the legal implications for institutions without a proper understanding could be dire. Firms must understand the difference between AML and KYC, their individual roles, and how they work hand in hand throughout the compliance process.


Generally, Anti-money laundering (AML) regulations are in place to mitigate money laundering and terrorising financing activities, therefore, compliance is mandated by both national and international authorities around the globe. This series of structures place monitoring and screening obligations on organisations operating in high-risk industries, like financial institutions. However, it somewhat differs from KYC, all of which we discussed in this article.
What is AML?
Anti Money Laundering is a series of regulations put in place to mitigate the risk and activities of money and terrorist financing. Financial institutions are mandated to monitor clients and report to the relevant authorities when they detect irregular activities. The geographic location of a business determines the international and local regulations they need to abide by to maintain compliance.
AML activities gained prominence with the establishment of the Financial Action Task Force (FATF). FATF is the body in charge of globally setting and enforcing the standards for money laundering and terrorist financing. They provide frameworks on which countries can build effective structures to combat money laundering and terrorist financing in their geolocation adequately.
Some of the regulated industries that are required to comply with AML include:
Retail finance

Finance and banking

Gambling and social gaming

Cryptocurrency

Payments and digital money

Businesses operating in Nigeria need to comply with the AML Prohibition Act 2013 and its subsequent amendments.

Read Also - What are the 3 Stages of Money Laundering?
What is KYC?
Know Your Customer (KYC) is one of the key components of verifying a customer's identity. Businesses in regulated markets, especially finance, are required to perform KYC checks to authenticate a customer before onboarding.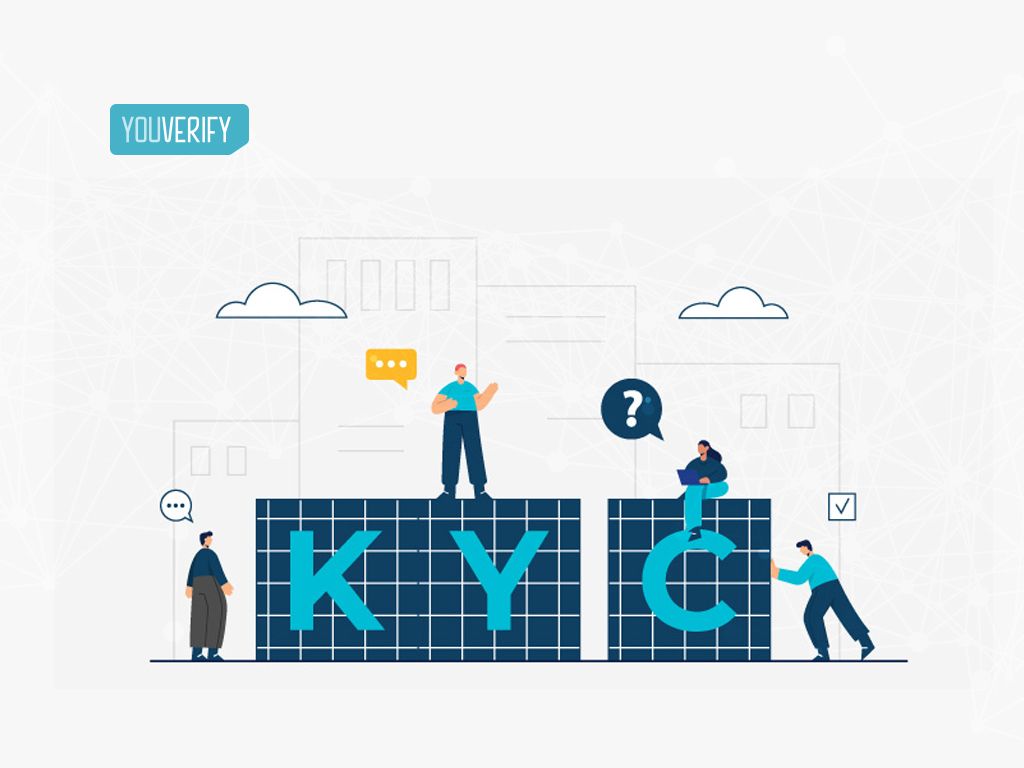 This is because organisations are required to verify their customers before engaging them in a business relationship. Typically, customers are required to provide valid identity documents which they can be verified with. Identity verification processes help companies satisfy KYC and AML regulations, and most importantly, mitigate fraud.

KYC also allow companies to protect themselves from legal penalties when conducting business with clients. It ensures that the business verifies that they're transacting legally and obtain enough information to protect their customers from financial crimes.
Read Also - What is KYC? Understanding Know Your Customer & How it Works

What is the Difference Between AML & KYC?
Anti Money Laundering is the general term for the series of measures, controls and processes which organisations are required to put in place to achieve regulatory compliance. On the other hand, KYC is one of the key components of AML, and it refers specifically to the process which organisations undergo to verify their customer identity and monitor their financial behaviours to detect suspicious activities early and intervene.

Generally, KYC process involves the collection and verification of a series of identity information including:
Name

Date of birth

Address

Identity documents

Company incorporation documents
However, beyond document verification, KYC also involves ongoing transaction monitoring and other necessary customer screening guides. This most especially refers to politically exposed persons (PEP) screening, adverse media screening and sanctions screening. What is AML and KYC in banking is a very important question because they play very vital roles in Customer Due Diligence and compliance.

The Role of AML & KYC For Compliance in Today's Industries
Global AML regulations require firms to develop and implement AML programs tailored to the needs of their businesses and in line with domestic and international standards. The program should be capable of managing risks peculiar to customers and businesses in the specific industry.
A robust AML program should enhance the practical screening and necessary monitoring mandated by AML legislation in its jurisdiction. Also, it should be revised as laws are updated and loopholes discovered. This would help it keep up with current trends regarding crimes and satisfy compliance requirements stated by regulatory authorities.
Read also - Know Your Business (KYB) - Understanding the Fundamentals for Organisations Today

AI For AML & KYC Compliance
AML and KYC processes depend on the collection, analysis and verification of customer data. However, in industries as fast pace as we have today, satisfying requirements while maintaining a good customer experience poses a significant challenge.
Customers grow on a daily basis, new criminal tactics emerge and the Fintech/ Digital space is changing the risk landscape at a rapid rate, but regardless, organisations must find ways to keep up with compliance and achieve customer satisfaction the same.

A viable solution would be to seek to integrate KYC measures suitable to a bulk of their customers' technological preferences. For example, firms may prefer biometric KYC processes such as liveliness detection or fingerprints to identify and verify their customers. On the other hand, some might prefer simply verification of government-backed IDs.

Today, there are enhanced KYC software solutions that organisations can use to manage their identity verification, KYC and whole Customer Due DIligence/ Onboarding processes. This allows them to be efficient, detect unusual activities, prioritise high risk and reduce human errors in minimal time.
Achieving KYC onboarding is easy when using Youverify's operating system or YV OS. This innovative software is Youverify's flagship product that simplifies the whole Know Your Customer process for you. You can create automated forms that perform a preset action based on the KYC needs of your business after verifying the identity and credentials of potential customers.
See how 100+ leading companies use YV OS for KYC and AML screening against real-time customer and business risks daily. Request a demo today.