In this article, we would be considering some of the frequently asked questions on identity verification that you may have as an individual, business owner, or organization. We compiled the most asked identity verification questions on the internet to bring the answers to your doorstep.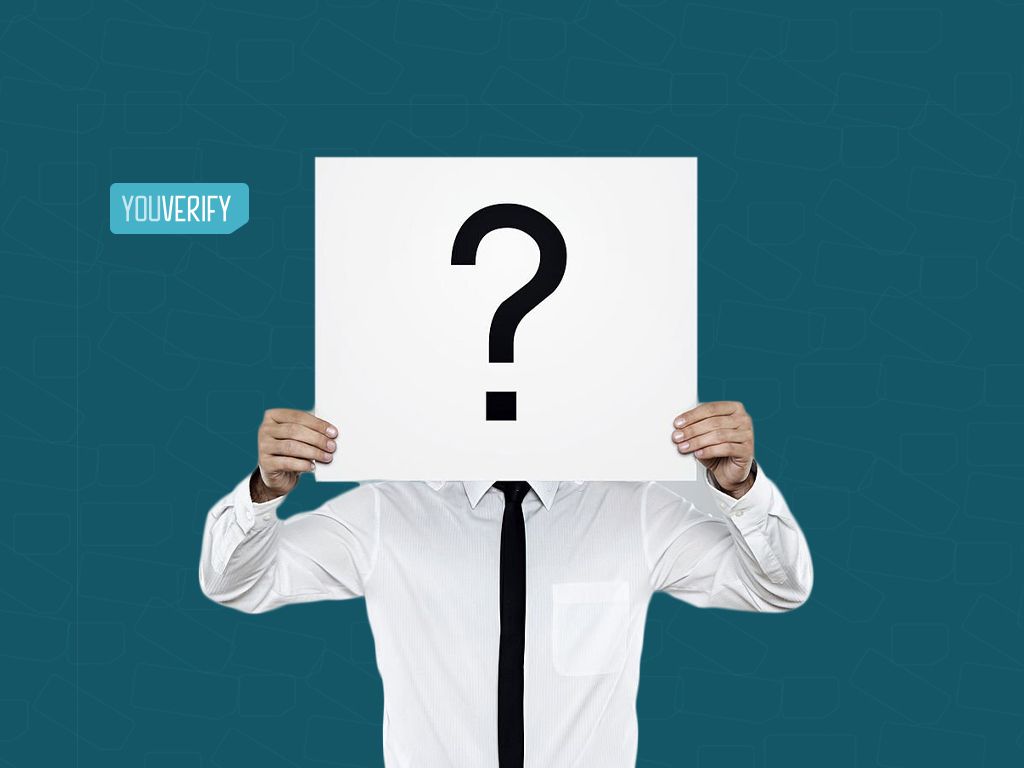 Let's get right into it:
What is identity verification?
Identity verification is simply a process used to confirm the identity of an individual. Mostly applied by businesses, it could be used when a customer is standing right in front of you or applying through an online channel. Basically, it is a real-time electronic process that verifies the personal information supplied by a customer to verify his or her identity.
Where can identity verification be used?
Identity verification can be used in any situation that requires a customer's identity or ID in person. Basically, countless industries leverage this to confirm the identity of their customer online during account opening or before processing a significant account request, mostly involving financial transactions. Even if the customer appears physically, you can also make use of identity verification to check a customer's ID to be sure he or she is not a fraud.
How can I verify someone's identity?
Verifying in person is the easiest, quickest, and most effective way to verify someone's identity. The process requires that the individual provides a government-issued photo ID card e.g. driver's license, Passport, NIN, or BVN. After that, you run it through an identity verification software to confirm its validity.
What is Knowledge-Based Authentication (KBA)?
Knowledge-based authentication or KBA aims to prove that a person is who they claim to be through a series of knowledge questions that only the real individual would know the answers to. This is commonly used today to prevent unauthorized individuals from accessing an account. Basically, there are two types of KYAs – dynamic KBA that makes use of ideology and Static KBAs that makes use of shared secrets.
What is the difference between dynamic KBA and static KBA?
The major difference between static and dynamic KBA is the fact that in dynamic KBA, questions are generated on the go by using the information found during an ID verification search. However, for static KBA, the questions are generated based on information collected from the customer beforehand. For static KBA, you need to have an existing relationship or data on the customer beforehand to properly leverage it as an identity verification medium. However, dynamic KBA does not require you to have an existing relationship with the customer.
For example, static KBA usually asks questions like "what is the name of your pet?" or "what is your mother's maiden name?". Answers to these questions would have been provided beforehand by the owner of the account (when he or she opened the account) and stored in the database of the business. This ensures that the system is able to tell the right or wrong answer when KBA kicks in.
However, there are downsides to this like some customers have people around them that may casually know the answers to these questions. Also, many customers are prone to forgetting the answers to questions they provided beforehand, especially when they've not undergone any KBA for a long time.
What is identity authentication?
Identity authentication is the means through which individuals, businesses, and organizations are able to verify the identities of their online users. Some of the major industries that use this include insurance, health care, banking and finance, and more. Identity authentication is the foundation of online security. Businesses that don't know who's buying from them are exposing themselves to a lot of risks.
Digital authentication is a very vital part of customer due diligence procedures.
How can I prove someone's identity online?
The top 7 identity methods to prove someone's identity online include:
Knowledge-based authentication

Two-factor authentication

Database methods

Credit bureau based authentication

Biometric verification
Each of these identity verification channels has its pros and cons and is suited to varying types of businesses based on their industries.
Also, KYC is another means used to combine one or more identity verification means. Read more on what is KYC here.
Where does identity verification information come from?
Generally, there are four major categories that companies use to carry out identity verification procedures. These includes:
Public records

Government database

Credit history

Internal customer data
Achieving KYC With Youverify OS (YV OS)
You can now onboard customers and complete KYC using just their mobile phone numbers. Keep in mind that it has to be the phone number linked to their bank account and NIN. By collecting their phone numbers, our "Advanced Search" can help you retrieve other relevant information like their NIN, BVN and full data.
The implication is that businesses and organisations can now onboard customers with just their phone numbers and complete KYC with full compliance. This greatly transcends the current use of customers' phone numbers for only user authentication like OTP.
Advanced Search is available on our flagship product, YV OS, and only available to customers in compliance with Nigeria Data Protection Regulation (NDPR).
Book a demo session today to see how YV OS can help automate your business's KYC Due Diligence! Also, feel free to contact us here for any questions.