Many businesses in today's world deal with a ton of data relating to customers. Those that don't necessarily require customer data, still have to verify their customer identity to prevent fraud and meet Know Your Customer (KYC) and Anti Money Laundering (AML) regulations. As a business owner, it is important that you make use of the best identity verification software solution to know exactly who you're dealing with. Let's get down to discussing the top 10 best identity verification software solutions, how they can help your business and why they're important.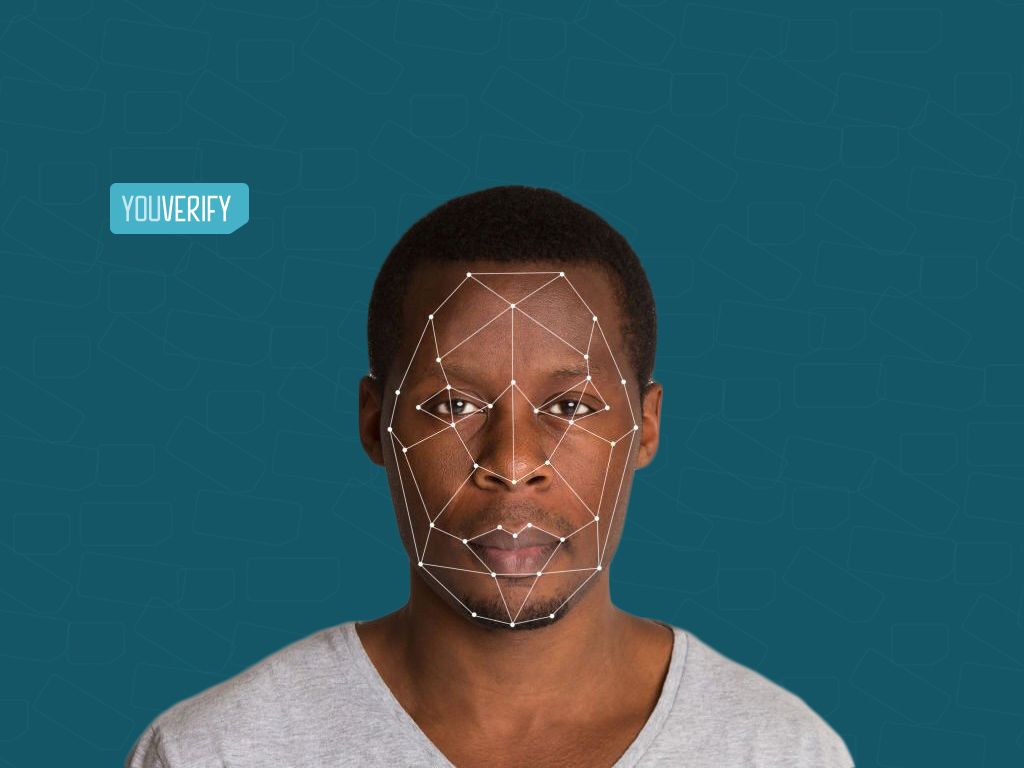 List of the top 10 Best Identity Verification Software in 2023
Before we get into the details, here is a list of the top 10 best identity verifications software in 2023:
1. Youverify
2. Trulioo
3. Jumio
4. Onfido
5. Ondato
6. Verifyme
7. SEON
8. MemberCheck
9. Token of Trust
10. Actico
What is identity verification software?
An identity verification software is a program that helps confirm whether a person or an online user is really who they claim to be in the real world. Because it's easy to supply false personal information when filling an application or lie about your location, businesses verify the identities of those it does business with to establish trust. It's also done to prevent fraud and comply with KYC and AML anti-fraud regulations.
What app can I use to verify my identity?
The Youverify Operating System (or YV OS) is the best app for identity verification today. It combines several identity verification processes in one including, ID checks, physical address verification, and biometric verification. The platform also incorporates an easy-to-use form that businesses can use to create an online form with zero code knowledge. With this form, you can collect customer data and verify their identities instantly. This saves the time and stress of manually verifying their identities one after another.
What are the top identity verification software features to look out for?
As a business owner, it is important that you select the best identity verification software for compliance and safety reasons. Here is a rundown of the features such software should have:
a. ID verification:
Arguably the most reliable type of identity verification, it is easy to cross-check an individual's identity through a government-backed ID. For example, the software can pick the serial number from the ID card and cross-reference it against a government database for a match. Also, unique patterns and features on the design of the ID could be used to validate and ensure originality.
b. Biometric identification:
This is simply using an individual's unique physical feature to verify you're not dealing with a fraudster. Examples include the space between their eyes, nose shape, forehead, etc. The software extracts this data from an immediate picture and matches it with the photo on their ID. This technology is widely becoming popular in today's world.
c. ID selfie video verification:
Also known as liveness test, this verification procedure is a type of biometric identification. It takes advantage of the popularity of selfie cameras, through which you can ask users to take a selfie and physically or digitally match their photo against the one in the ID they provided.
d. Blockchain KYC:
Largely regarded as the future of identity verification, Blockchain technology has become widely popular due to its 100% validity. Blockchain KYC is the latest ID verification technique and it leverages blockchain to store users' government-backed user ID which could be verified at any time.
You can read more about digital identity verification.
List of the top 10 best identity verification software in 2023?
To make your journey easier, we have compiled the top 10 best identity verification software in 2023. They include:
1. Youverify Operating System (YV OS) – Digital Identity verification service
Youverify is a leading identity verification software service company based in Africa that delivers an all-around identity verification and anti-fraud software called the Youverify Operating System or YV OS.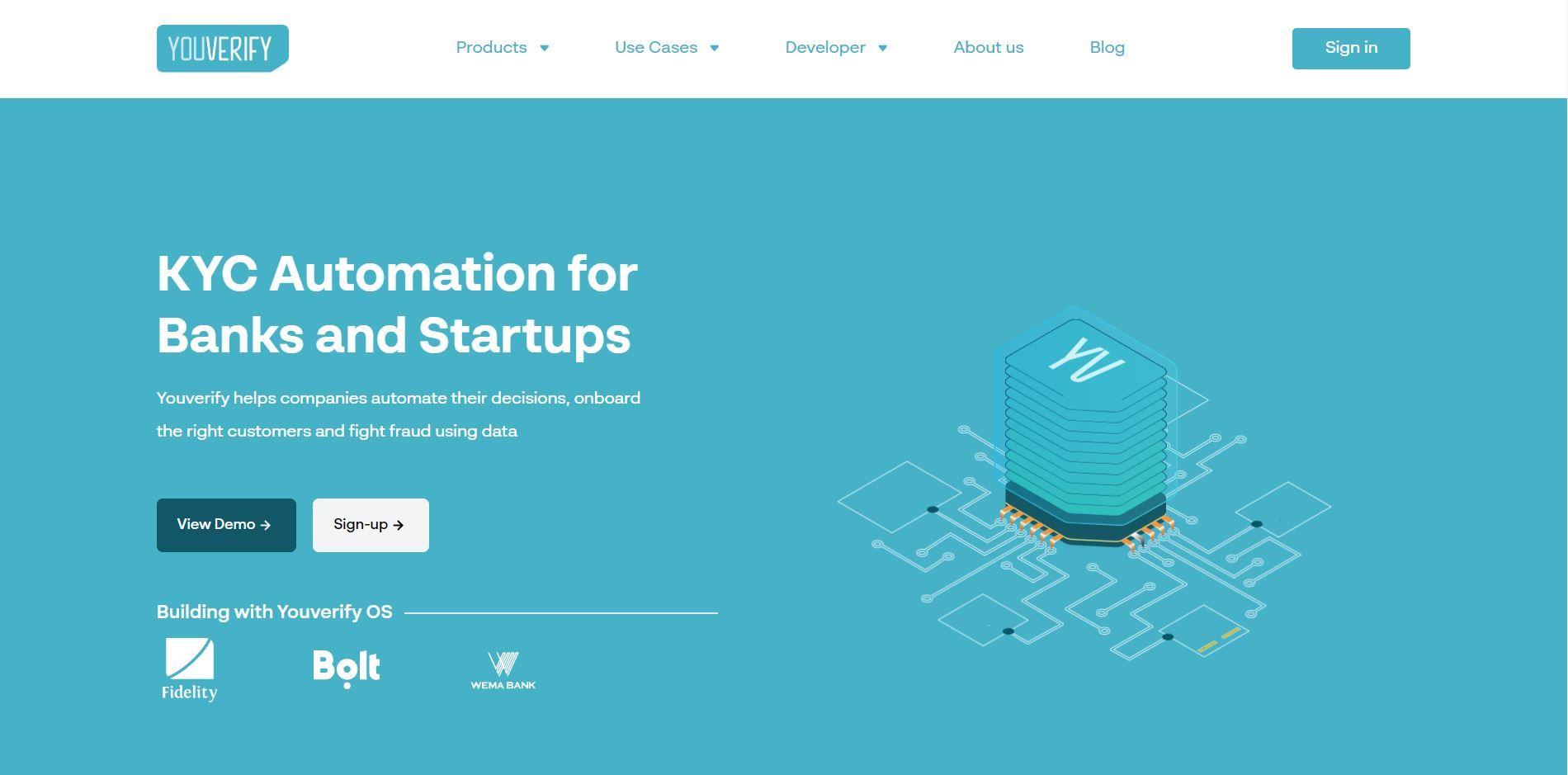 Youverify services focus on the following:
ID verification

Easy

KYC onboarding

and compliance satisfaction

Liveness testing

AML watch list screening

Storing and managing your personal identity data

Automated due diligence needs for businesses
These services are fully customizable and allow risk/ compliance managers to design custom forms to their taste with zero coding. However, the services are not limited to this, as business and organisation owners also make use of the Youverify operating system to filter out unqualified potential users based on KYC, AML, and other requirements depending on the business.
Basically, Youverify operating system allows you to easily verify users' identities through different verification channels, which also gives a general understanding of who your users are. These checks are completed in a matter of seconds.
Youverify currently provides identity verification services to high-profile organizations around the world including Standard Chartered, Bolt, Sterling Bank, Leadway Assurance, and Fidelity Bank.
You can onboard customers and complete KYC using just their mobile phone numbers. Keep in mind that it has to be the phone number linked to their bank account and NIN. By collecting their phone numbers, our "Advanced Search" can help you retrieve other relevant information like their NIN, BVN and full data.
The implication is that businesses and organisations can now onboard customers with just their phone numbers and complete KYC with full compliance. This greatly transcends the current use of customers' phone numbers for only user authentication like OTP.
Advanced Search is available on the flagship product, YV OS, but only to customers in compliance with Nigeria Data Protection Regulation (NDPR).
Book a demo session today to see how YV OS can help automate your business's Customer Due Diligence process.
What are the pros of using Youverify operating system (YV OS)?
The benefits of using YV OS services include:
Amazing user experience: the YV OS is designed to make things as easy as possible for business owners who can perform actions at a click.
Fishing out fake IDs: Youverify OS ensures you don't fall victim to online fraud through false identity by fishing out fake IDs during applications.
Lightening quick: means a faster onboarding rate and frictionless customer journey for legit users to seamlessly get down to doing business with you.
Validating user documents: Connected to over 300+ data sources, Youverify OS instantly cross-references documents and provides real-time feedback. This checks whether the document is valid or not.
Seamless integration: friendly APIs means you can use YV OS as a standalone service or integrate with your existing company software.
Physical address verification: as one of the two physical address verification service providers in Nigeria, Youverify is able to validate the residential location of your customers in real-time.
What are the cons of using Youverify operating system (YV OS)?
The downsides to using YV OS include:
No social media verification: at the moment, Youverify services do not include social media validation.

Services currently cater to Nigeria and Africa at large.
Opt for Youverify if:
You want to totally automate due diligence for your business in Africa.
Read more - KYC Checklist For Banks - Know Your Customer Process Guide for Banking.
2. Trulioo – Global identity verification service
Trulioo is a popular identity verification solution that's well known for its KYC-focused services. However, the company also provides business verification for all due diligence needs. Some of Trulioo's most vital services include ID document verification, identity verification, AML watch list screening, and business verification.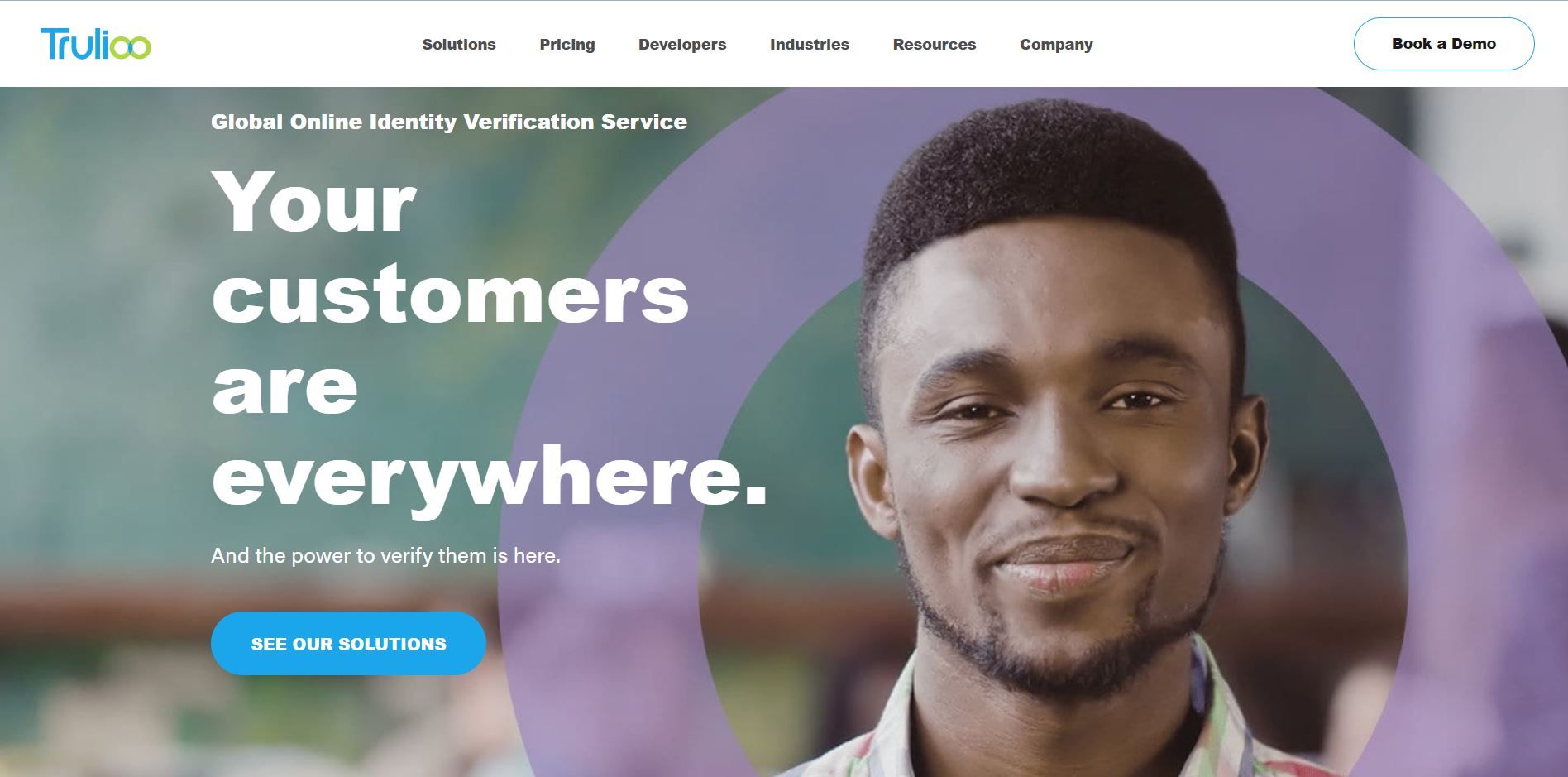 At the moment, their services cover over 4,000 types of document verification across 195 countries. Also, Trulioo's gateway portal can verify up to 5 billion identities and is available for integration through API or custom preferences.
What are the pros of using Trulioo?
Some of the benefits of using Trulioo include:
Near global coverage: they currently boast over 4,000 document verification services with over 195 countries
Flexible pricing with free trial: business owners can easily assess their services for free at first, after which they can choose to migrate to the paid services.
What are the cons of using Trulioo?
No biometric verification: you cannot carry out biometric verification of customers
No liveness verification: the absence of a liveness check means a fraud with the right information can possibly get away with it.
Opt for Trulioo if:
You need a global ID verification solution for KYC and AML requirements.
Read more - What is Corporate KYC?
3. Jumio – Leading Liveness identity verification
With over 10 years of experience in producing and managing data and data points, Jumio is certainly one of the top identity verification companies in the world today. They boast an impressive customer portfolio including HSBC, MONZO, and more.

Primarily designed to verify identities, Jumio's platform offers excellent services for businesses that onboard a ton of customers frequently. Today, their services can verify over 3,500 documents across over 200 countries for compliance requirements.
However, you can also perform other actions including address verification, AML and KYC watch list checks, calculating fraud risks, and more. This makes it very suitable for heavily regulated industries.
What are the pros of using Jumio?
Some of the pros include:
Access to over 3,500 documents: Jumio allows you to verify over 3,500 types of documents across more than 200 countries, therefore, providing a global-scale service.
Intuitive user experience: with a very solid design, Jumio ensures you don't find it difficult to make use of their platform.
Governmental checklists and databases: you can make use of their software for KYC and AML compliance requirements.
What are the cons of using Jumio?
Some of the downsides include:
Pricing: Jumio is pretty expensive and you'd need to contact the sales team for a quote, depending on the needs of your business.
Opt for if:
You're a global business in a heavily regulated industry such as finance and perform frequent large customer onboarding.
Read more - Why is KYC Important?
4. Onfido
Onfido ID verification service is trusted by global companies including Revolt and Bitstamp. Their platform simplifies identity verification for fraud, compliance, customer acquisition, and overall digitization.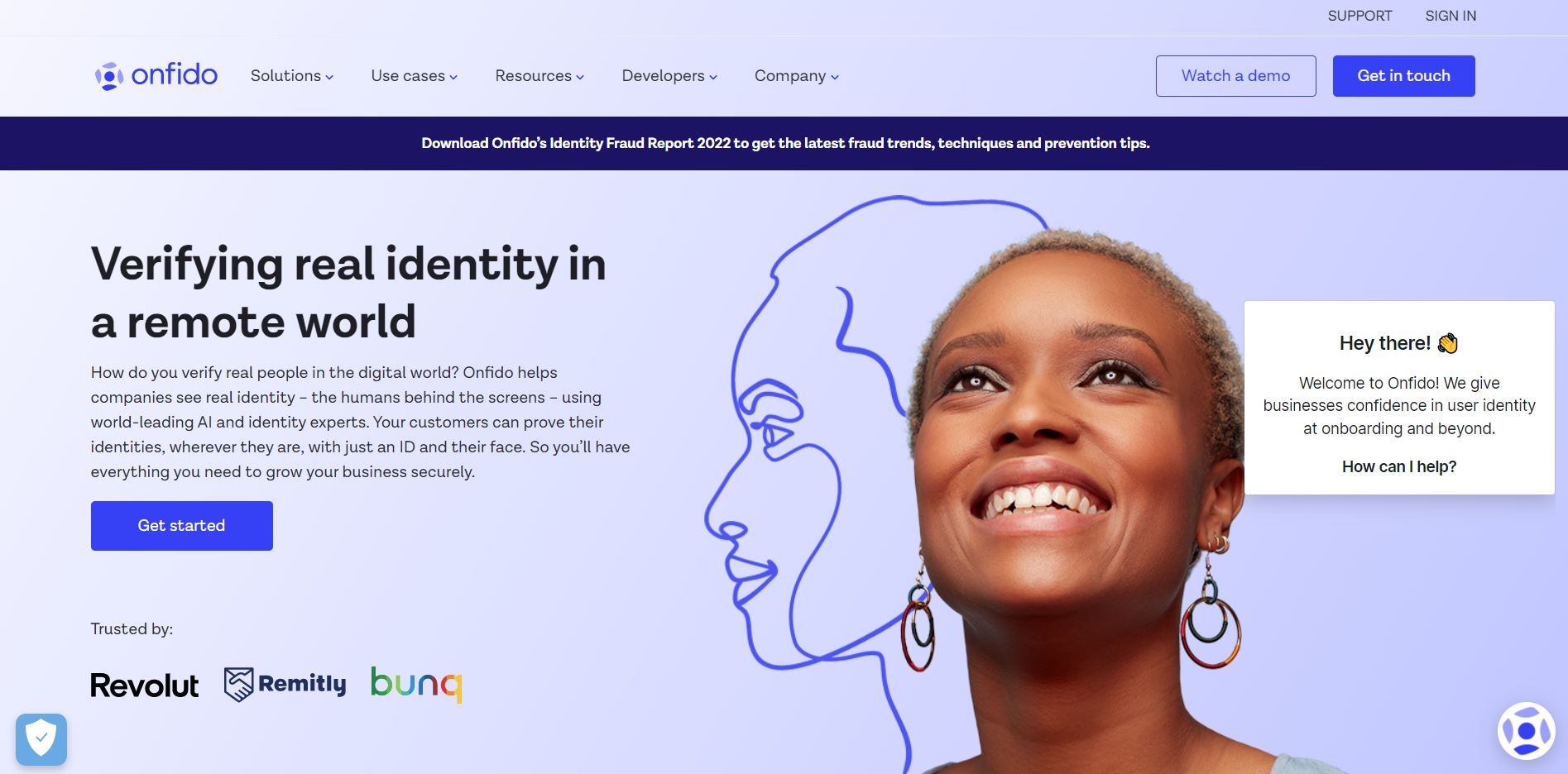 The company is popularly known for being a pioneer in liveness identity verification using video selfie cameras. With machine learning, Onfido can match the face of the recording with that in the ID provided.
What are the pros of using Onfido?
Some of the benefits of using Onfido include:
Access to over 2,500 documents: you can check over 2,500 documents from over 195 countries.
Easy fraud and compliance: their platform makes KYC and AML fraud compliance a walk in the park.
Excellent Biometrics ID verification: Well known for biometric verification, Onfido is one of the leading providers of Liveness tests through selfie cameras.
What are the cons of using Onfido?
The major downside of using Onfido is:
High expense costs make it suitable for global businesses with deep pockets.
Opt for Onfido if:
You require liveness tests and ID verification through selfie cameras.
5. Ondato – World-class live document verification
Ondato services can be summed up in a single phrase, live document verification. The company provides expert live photo and video verification services for businesses. Also, they allow you to choose from an option of different biometric modules, compliance management tools, and even e-signatures.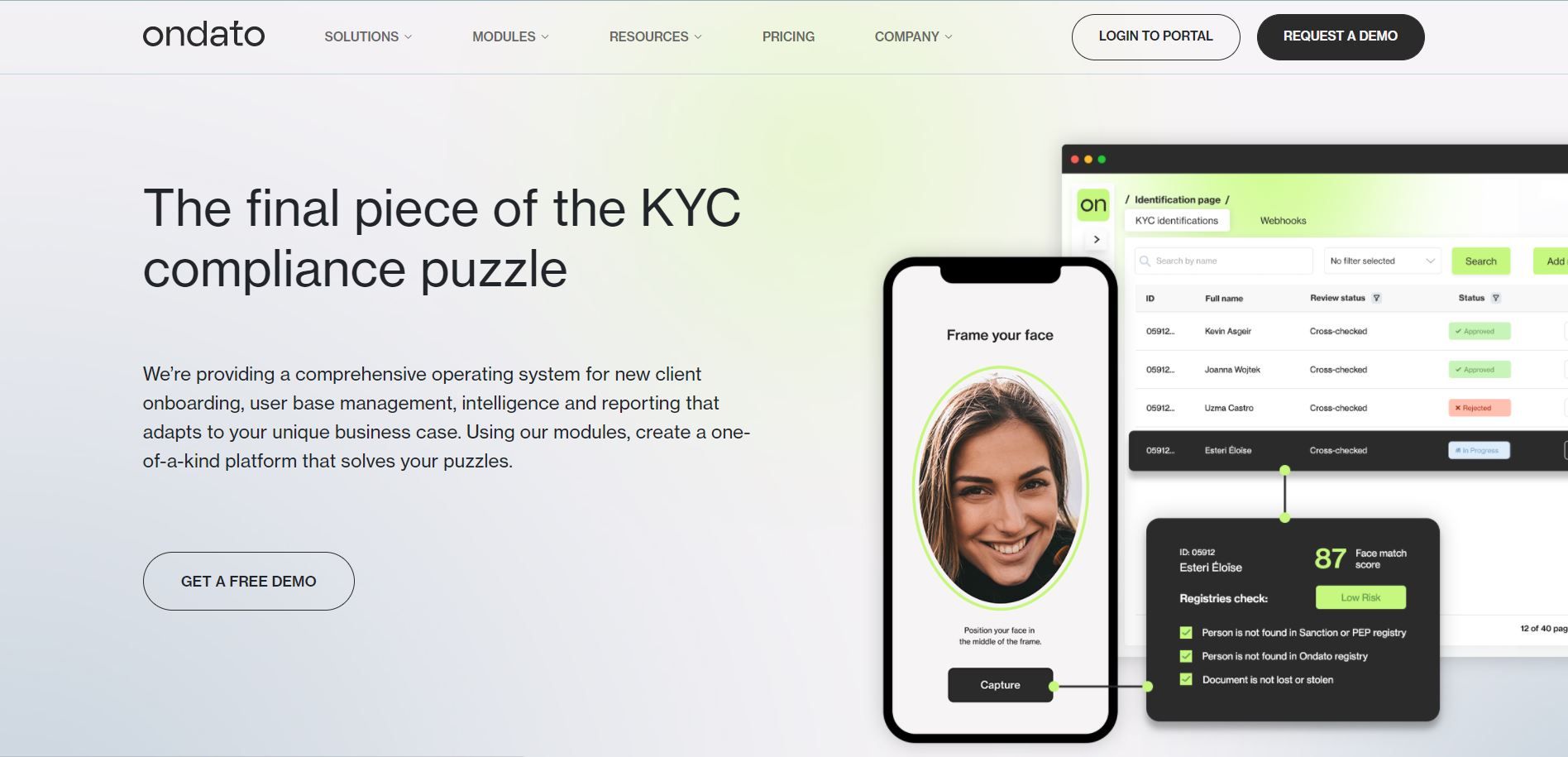 Suited to large-scale companies with global coverage, the company focuses on providing verification services to top clients including Swedbank, NFT venture, and more. Their services also cover KYC and AML compliance.
What are the pros of using Ondato?
The benefits of using Ondato include:
Live photo and video verification: you can verify the identities of users through photos and videos with their excellent software
Total identity verification package: Ondato services include biometrics, individual or business video verification, e-signature, and more.
What are the cons of using Ondato?
The downsides of using Ondato include:
Lack of risk scoring: their services focus on identifying who you're dealing with as a business
High pricing: although there is a free trial, you need to get in touch with them for pricing depending on your business scale. From findings, their pricing is expensive.
Loophole: deep fake technologies have been known to bypass video checks and live

ness.
Opt for Ondato if:
You require quick biometric and video verification checks.
Read also - What is KYC verification? Complete Guide on Everything You Need to Know.
6. Verifyme – Identity verification in Nigeria
Verifyme is one of the leading identity verifications services in Nigeria. Their services cover employee onboarding, ID authentication, and conventional identity verification for businesses and organizations. They are also licensed for KYC and AML verification to meet compliance and mitigate risks.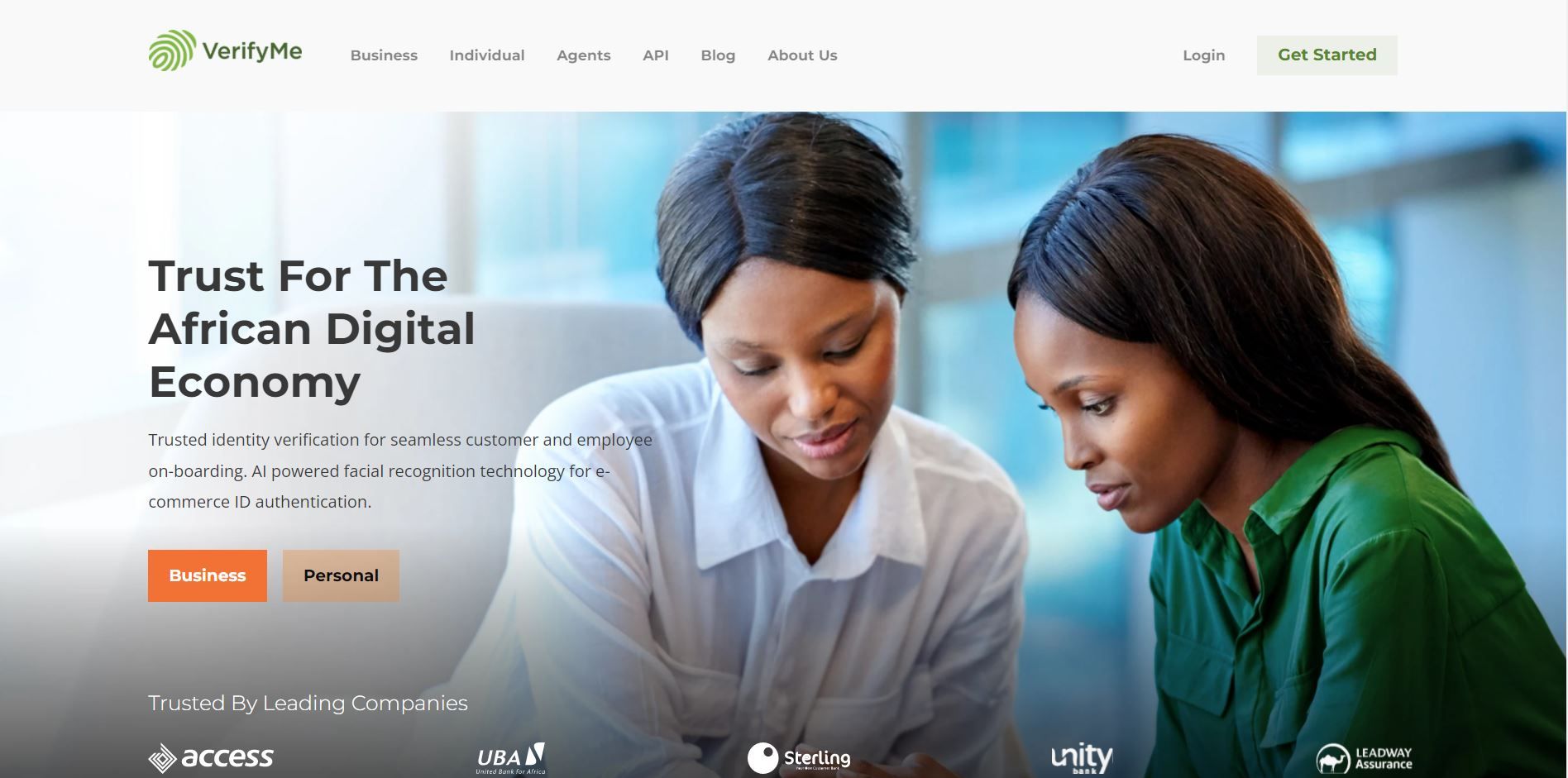 What are the pros of using Verifyme?
The benefits of using Verifyme include:
KYC and AML compliance: Verifyme services help businesses meet KYC and AML compliance in a few steps.
Employee onboarding: easy employee onboarding by verifying their documents and identities.
Physical address verification: Verify services allows you to validate the residential location of your customers in real-time.
What are the cons of using Verifyme?
The downsides of using Verifyme include:
No video liveness: although Verifyme services facilitate biometric checks, it does not support video liveness identification at the moment.
Opt for Verifyme if:
You require a basic all-around identity verification service for your business.
7. SEON – Identity verification using footprint analysis
SEON is focused on providing a complete suite of anti-fraud services through its flagship software. Basically, it uses digital footprint analysis to verify the identities of users for business owners.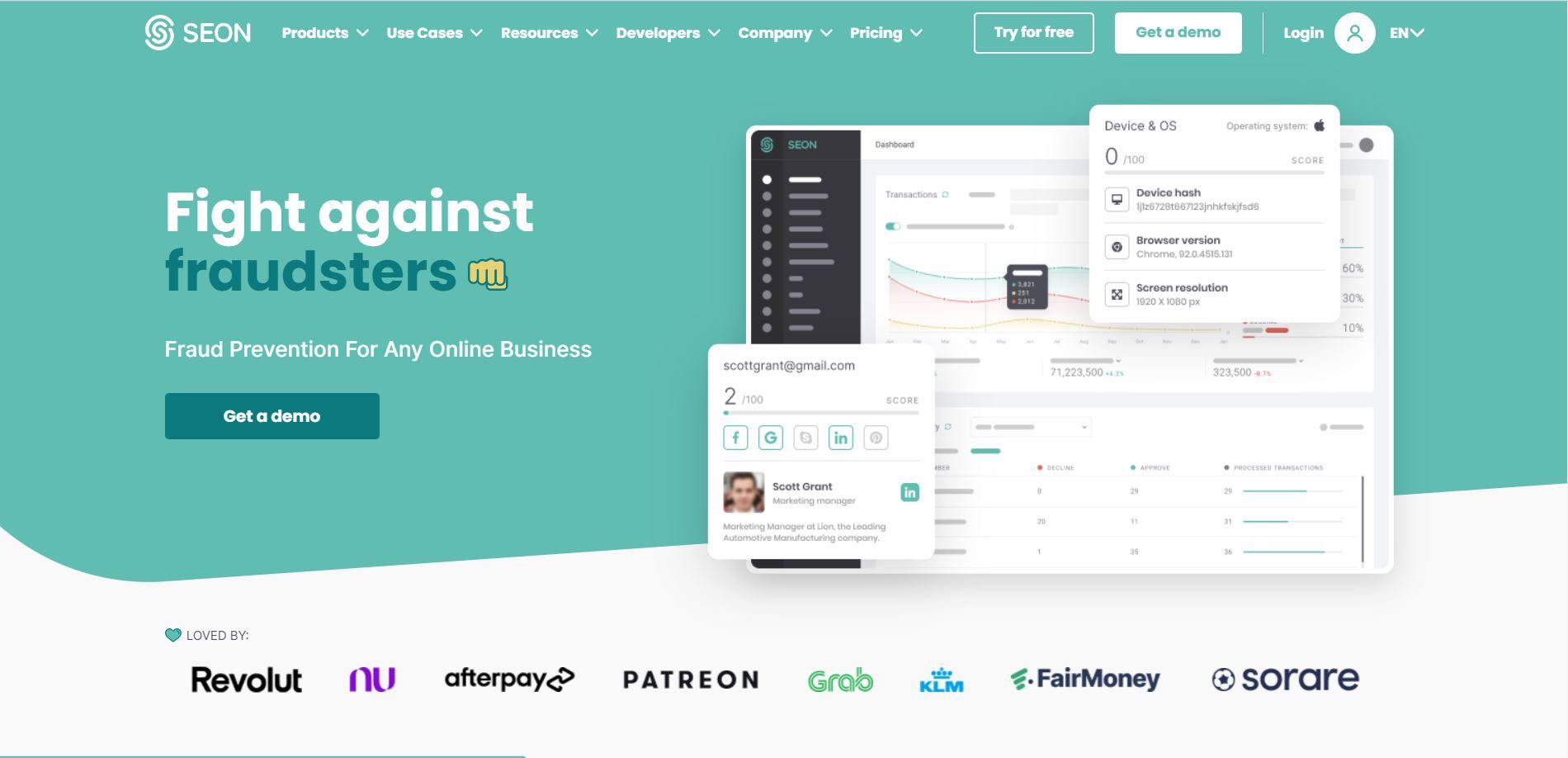 From IP analysis to device fingerprinting, reverse social media lookup, and more, SEON collects data on users and passes them through customizable risk criteria. Their tool could also be used for KYC and AML checks.
What are the pros of using SEON?
Some of the pros of using SEON include:
Reverse social media lookup: their software allows you to verify a user's identity across 35+ social media networks.
ID authentication: their elaborate identity checks mean it's easy to weed out fake IDs of your users.
Flexible pricing: You can call SEON to cancel your subscription at any time while having free access to their solution for 30 days.
What are the cons of using SEON?
Some of the downsides of using SEON include:
Lack of biometrics and document checks: the company does not offer these services
Lack of PEP or sanction list checks: You cannot perform ID proofing for AML and KYC regulations using SEON.
Opt for SEON if:
You need an all-around fraud prevention platform with identity verification features.
8. MemberCheck – Identity verification for optimal compliance
Initially launched as an offline organization that helps organizations meet compliance regulations in 2008, most of MemberCheck services are now online. Online identity verification/ ID verification has become a key selling point in their business with features like biometric screening, 2FA verification via SMS, and liveness detection.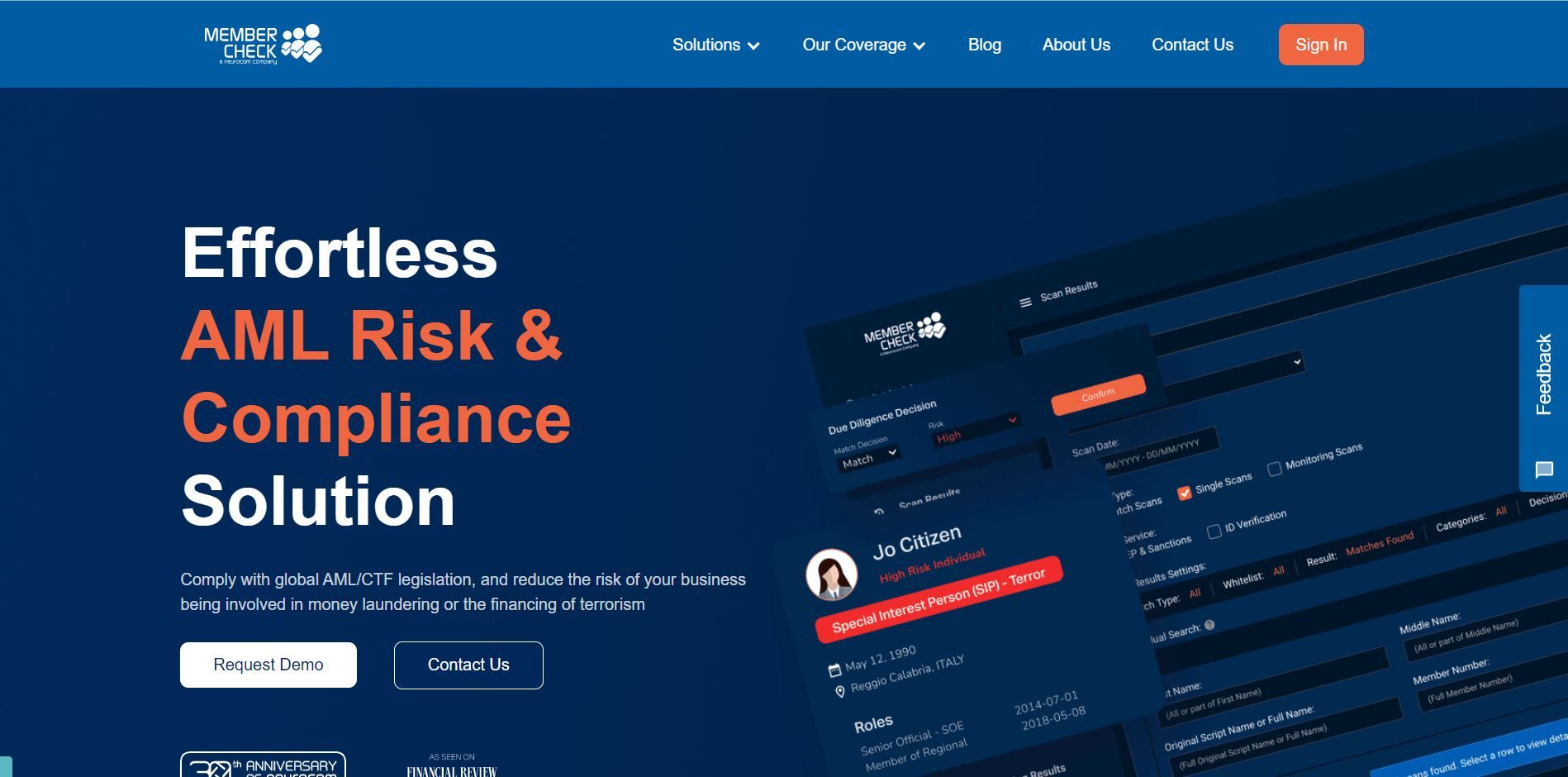 Also, you can integrate their software through APIs to perform standard KYC, AML, and PEP sanction lists for your users.
What are the pros of using MemberCheck?
Some of the pros include:
Access to a large database: MemberCheck allows you to scan identities against a database of over 1.4 million profiles for AML compliance.
Biometrics screening: Liveness identification can be achieved using FaceMatch to verify your customers.
What are the Cons of using MemberCheck?
Some of the cons include:
Poor interface: customers have been known to complain about ease of use.
No data enrichment: you are only allowed to check documents but would not get recommendations for user profiling.
Opt for MemberCheck if:
Your business requires biometric screening and AML identity verification for customers.
9. Token of Trust – Verify multiple IDs in one
The idea behind this organization was conceived after its co-founder almost fell victim to an online scam. Basically, after the devastating experience, he set out in an attempt to ensure no one finds himself or herself in such a situation again in the digital sphere.

From, electronic ID verification to biometrics, age address, government ID verification, social verification, and document scanning, Token of Trust offers a wide range of identity verification services for users.
Its services support integration through API and WordPress plugins, helping businesses onboard their customers easily and at low risk.
What are the pros of using Token of Trust?
Some of the benefits of using Token of Trust include:
An array of verification channels: with a series of identity verification tools, Token of Trust lets you identify your customers through several methods, depending on which works best for your business
Age verification: age verification is still a largely uncommon service in the world of identity verification and Token of Trust is one of the few that offers it.
What are the cons of using Token of Trust?
The major downside to using Token of Trust is:
Tedious integration: although the company claims to have an easy integration process, you have to work more than you may think to integrate the tools into your business software.
Opt for Token of Trust if:
You require age verification as a vital core for your business.

10. Actico – Identity verification for compliance
Actico is an identity verification service that focuses on compliance for businesses. Their services also include fraud prevention and underwriting risks and boast a number of high-profile clients including Santander and Volkswagen Financial Services.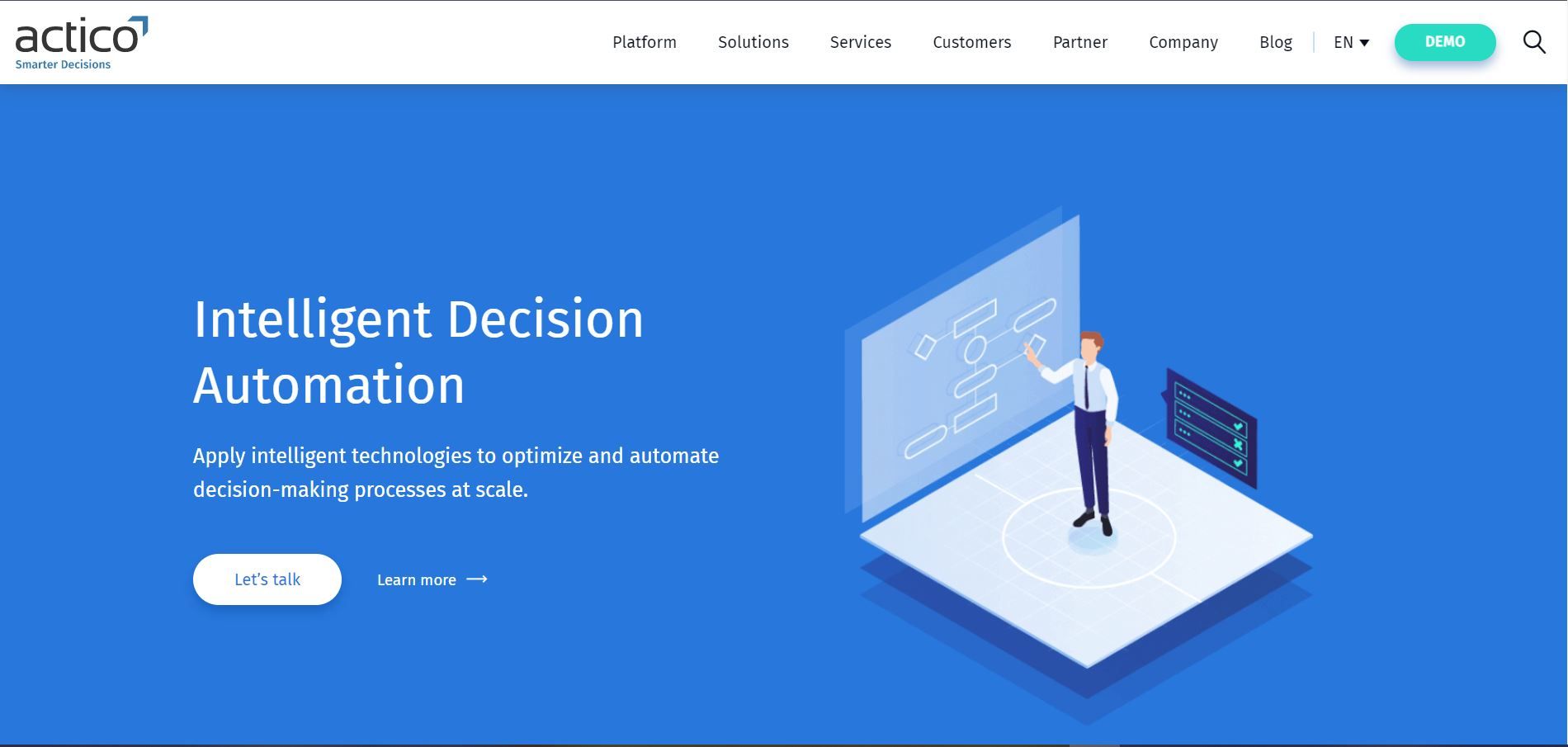 With Actico, you can carry out KYC risk classification sanctions, profiling, and PEP screening for AML. They also allow you to customize the software with your business name.
What are the pros of using Actico?
Some of the benefits of using Actico include:
Compliance suite: Actico services allow you to carry out full AML and KYC compliance checks on your users.
Credit risk management: their service allows you to combine identity verification with credit scoring of users.
Business automation: the software they provide allows you to do more than basic identity verification. You can automate other integral parts of your businesses to speed things up.
What are the cons of using Actico?
Some of the cons of using Actico include:
Poor user interface: compared to competitors, Actico's user interface is not exactly the best or the most user-friendly.
High pricing: their services may be expensive depending on exactly what your business needs.
Opt for Actico if:
You're a business in the financial industry with heavy AML and KYC requirements.
How can I verify someone's identity online?
There are several methods you can use to verify the identity of an individual online. They include:
Two-factor authentication

Database methods

Online verification

Knowledge-based authentication

Credit bureau based authentication
Also, read more on the most common types of authentication today.
What is the most accurate way to verify identification?
The most accurate way to verify an identity of an individual is to make use of more than one form of identification. As a rule of thumb, one of them should be a photo ID of the person. You could also add other means like biometrics, two-factor authentication, online verification, and more.
Bottom line
After running through our top 10 best verification software solutions, the next step is to select which service accurately satisfies your business at a reasonable cost. To do this, you have to understand your core business requirements and compliance obligations.