The rapid advancement in technology today has seen digital identity become one of the most vital aspects of our lives as humans. From simply filling out a KYC form to banking online or applying for a job, our digital identity is tested on a daily basis across several platforms. Digital identity verification is key to your existence as an individual or corporation looking to conduct business with customers.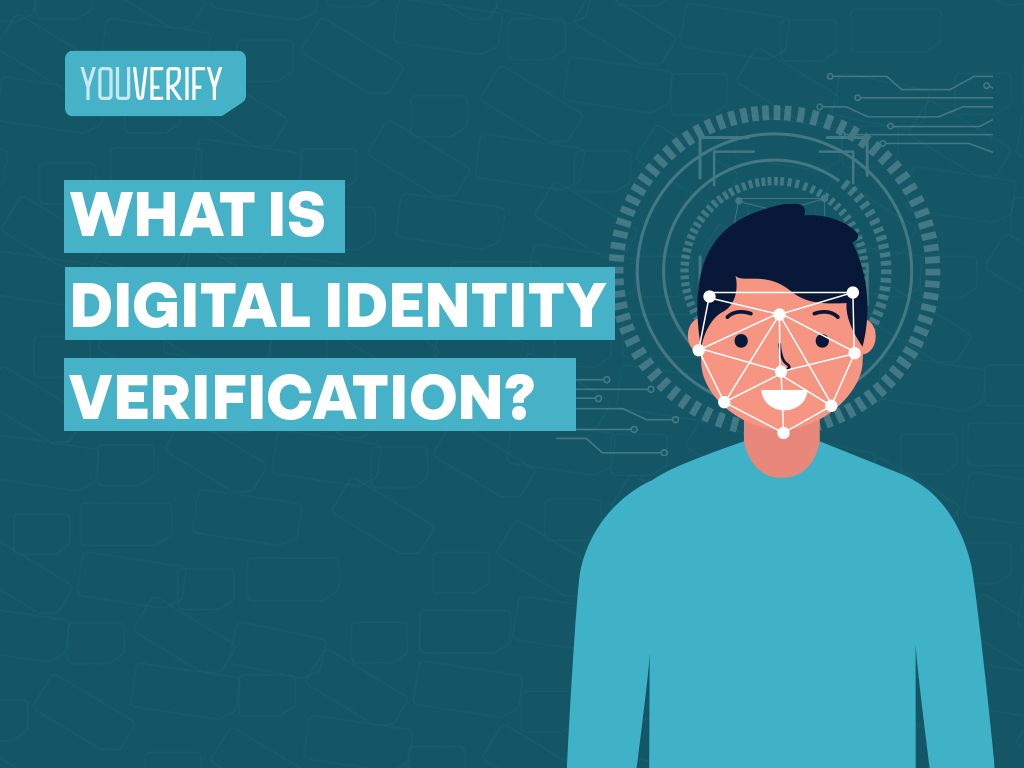 Although Identity verification is a necessary security measure necessary in combating account fraud, it also plays a major role in Know Your Customer (KYC) and Anti Money Laundering (AML) processes in financial institutions. They are used for customer risk assessment and monitoring.
The basics of digital identity verification
Basically, identity is defined as the quality that makes up a person, that is, who they are. We can also accurately explain it as a series of claims that can be used to describe a specific individual. Digital identity verification is a compulsory part of our economy. This ranges from basic details like a person's fingerprints, date of birth, name, and ethnicity to more temporal traits like their height, weight, name, eye, and skin colour.
On the other hand, verification simply means checking the validity of something – whether it really exists or not. Placing them side by side, identity verification is simply the process that an entity undergoes to validate the identity of an individual. This is usually done using ID verification software.
The digital part of identity verification enters when you throw technology into the mix. In today's world, most processes are conducted using technology and identity verification is not an exception. Digital identity verification is the process of verifying the identity of a person digitally. Just as how "online banking" is now the new "banking" and "online shopping" is now the new "shopping", digital identity verification is quickly replacing physical processes. Within the next decade, we may as well refer to "digital identity verification" as simply "identity verification", hence the rise of identity verification software solutions.
Why is digital identity verification important?
Why is it so important to verify the identities of individuals? Well, let's get down to it.
Digital identity verification is important for businesses to cut down risks and mitigate identity fraud. Industries and businesses are migrating to digital models. This includes banks, shops, travel agencies, and even fitness instructors. They leverage digital infrastructure and technology to connect their customers directly to the services they need and in a matter of minutes, you can open an account, receive deliveries or book a flight. Most of these companies require that they verify your identity for compliance purposes before you proceed to make use of their service.
Some still employ traditional means of identity verification like the face to face identity checks for opening a bank account or applying for a loan. However, the margin of businesses that does this keeps getting slimmer by the day, and for good reason. This is because the traditional method is no longer appropriate as it takes a lot of time and resources although effective. With digital identity verification methods, you can verify the identity of hundreds of customers in seconds. It speeds up the process, removes geographical boundaries, and is cost-effective, however, it is not without a share of risks and challenges.
Digital identity verification has become an important part of customer onboarding processes and opening an account. It uses methods such as biometric verification, digital ID document, and face recognition to help the government, financial institutions, and companies verify the identity of a person online. This is to ensure such an individual is not a criminal, fraudster, or attempting a scam.
How does an identity verification process work?
Identity verification leverages established governmental databases to confirm the identity of individuals. However, there are different types of identity verification solutions and digital identity verification. The process extracts data from the document provided by a person (e.g ID number or facial biometrics) and compares it with verified data (e.g government databases like passports, Drivers licenses, and more) to verify if such a person is really who they say they are.


Some of the ways through which digital identity verification works for customer due diligence include:
1. ID Document verification
This checks the ID supplied by an individual to see if it is legitimate. Examples of IDs include driver's license, passport, or any other government-issued ID. Electronic ID verification or eVID is very common today.
2. Liveness Detection
This identity verification process checks whether a selfie is genuine by matching an individual's life capture with a supplied picture. It picks up manoeuvring attacks like photos of photos and face masks.
3. Biometric Verification
The Biometric verification process uses camera capture or selfies to establish whether the person claiming to be the owner of the ID is the same individual whose portrait appears on the ID.
4. One-time passcode (OTP) verification
OTP verification is very common today, especially used by banks. It transmits a single-use passcode through email or SMS for an applicant to confirm their identity during an application.
5. Knowledge-based Authentication (KBA)
Knowledge-based authentication generates questions based on the information supplied in an applicant's personal credit file.
6. Trusted Identity Network
This is a network that leverages an applicant's existing information and credentials with another provider to authenticate their identity and cut downtime during the account opening process and customer onboarding.
7. Database Methods
This basically takes advantage of data from social media platforms and other offline databases to verify the validity of information supplied by a candidate.
What is identity verification used for?
Identity verification or digital identity verification is generally used to process remote onboarding for new customers to meet KYC and AML requirements. They also play a very vital role in improving the overall customer experience while saving businesses time and money.
You can learn all about what is KYC.

What are the problems surrounding digital Identity verification?
Some of the problems surrounding digital identity verification include:
Mismanagement and misuse of data

Mass scale data breach

Identity fraud/ hackers
Generally, as the quest for online services increases, more consumer data is required. The more data there is, the higher the chances of misuse and mismanagement and we see this every day. News of mass-scale data breaches are very regular and has almost become the norm today rather than an exception. This is why we take extra conscious effort to securely protect and encrypt the data you commit to us at Youverify.
Data leaks allow fraudsters to pose as other individuals, therefore using their stolen credit cards or even taking over their bank accounts completely. This is why it is necessary that you only partner with trusted and certified identity verification solutions for your business needs. Online identity verification is information sensitive, and you have to be careful with who you entrust your customers' data.
What are the benefits of digital identity verification?
Some of the benefits of digital identity verification include:
Fraud mitigation

Assisting businesses in meeting KYC and AML requirements

Greatly reduces the risk associated with business operations

It prevents identity theft

Eliminates the need for physical presence (geolocation restrictions)

Enhances consumer trust and improves a business's overall brand reputation.
Certainly, verifying a person's true identity is key to managing risks as a business. However, it is important that you place emphasis on the word "true" and leverage digital identity services that are advanced enough to see beyond charades and verify if a person is truly who they say they are.
Read more on some of the most frequently asked questions on identity verification.
How documents are verified digitally?
A breakdown of the process includes:
The document is scanned digitally or its details supplied to a

digital identity verification software

The AI picks up important elements of the document and runs it across an established government database

The matching result comes out as either legit or not
Documents are verified digitally by leveraging AI that scans and cross-references the details on the document with a government-established database. If there is a match, then the document is valid for the information it provides, and invalid if otherwise. This is usually used in KYC verification processes. Also, there are a host of other verification technique and ML-based filters (machine learning) that is used to achieve this. Overall, AIs are one of the most important tools in fighting identity fraud.
Advanced documents authenticators
Some advanced document authenticators include:
1. Visible security features
This includes embedded features like watermarks, holograms, and more which are detected and their exact positioning analyzed.
2. Rounded corner detection
This involved the document corners being checked to ensure they are aligned with standard templates.
3. Font usage and consistency
Fonts on an ID document can be analyzed and compared to the standard font for that particular document. The key features it takes note of include shape, spacing, and the consistency of letters used.
What are the benefits of ID document verification?
Some of the benefits of ID document verification include:
It allows businesses to authenticate customer's IDs digitally

Supports realtime operation

It removes restrictions around geolocation so processes can be carried out remotely

Saves time

Protects against fraud and reduces abandonment rates during KYC procedures
How can I use facial biometrics for digital identity verification and fraud prevention?
Facial biometrics can be used for digital identity verification and fraud prevention through facial comparison. Basically, it uses advanced logarithms to extract the biometric data from a facial image, paying attention to precise details like:
The position of such person's eyes relative to each other

Nose width

Forehead span, and more.
This is processed into a standard set and compared with data from the real-life image of the person to determine whether the two individuals are the same. For example, the first image can be from a passport or ID card while the other can be a real-time image taken at the time of application.
However, keep in mind that there is a significant difference between facial recognition and facial comparison.
What are the benefits of biometric verification?
Some of the benefits of biometric verification include:
Leveraging technology to validate identity and prevent fraud

Liveness detection to fish out spoofing attacks like face masks, photos of photos, or videos
Digital identity verification in blockchain
Today, many believe that blockchain is the technology of the future and a secure space where users can obtain greater control over their identity. The technology allows customers to share only the information they consent to give with organizations and no entity would be able to compromise a consumer's identity details. KYC for crypto is also another very important aspect of digital identity verification in blockchain.
Digital identity verification software
These are software that are used for digital identity verification purposes. The software runs the procedure described in the previously explained "how documents are verified digitally" header. Basically, it leverages AI, ML, and other techniques to cross-reference information supplied by a consumer with an established database to prove if they're who they claim to be. This is called identity verification as a service.
YV OS is Youverify's flagship product that allows businesses to perform digital KYC in a matter of seconds.
Here is a video description of how it works:
You can now onboard customers and complete KYC using just their mobile phone numbers. Keep in mind that it has to be the phone number linked to their bank account and NIN. By collecting their phone numbers, our "Advanced Search" can help you retrieve other relevant information like their NIN, BVN and full data.
The implication is that businesses and organisations can now onboard customers with just their phone numbers and complete KYC with full compliance. This greatly transcends the current use of customers' phone numbers for only user authentication like OTP.
Advanced Search is available on our flagship product, YV OS, and only available to customers in compliance with Nigeria Data Protection Regulation (NDPR).
YV OS is the leading identity verification software in Africa and is trusted by global brands including Standard Chattered and Bolt. Book a demo session today to see how YV OS can help automate your business's KYC Due Diligence